The Ed Posh Shootout Event (Golf & Dinner Party) July 26, 2013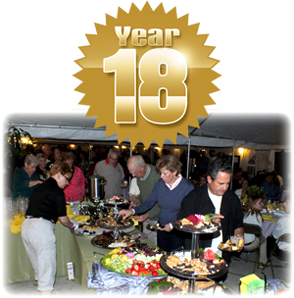 The Annual Ed Posh Scholarship Shootout (Golf & Dinner Fundraising event) took place under moderate weather conditions on July 26, 2013 at the Village Links Golf Course in Glen Ellyn. 145 golfers competed in the golf scramble for the coveted Ed Posh Cup, which was won by the McGinley FOURSOME (Ed & Brendan McGinley, John Wachter, John Dibuno), The winner of the ladies division were Pat Takir, Carol Scott, Christel Gallagher and Mary Ellen Martin, 1st place for the mixed division went to Ray, John & Sue Imburgia, James Kincaid.
The $ 1,000 prize for the annual Shootout with a total of 16 qualified golfers competing on the 18th hole during the evening events was won by Craig Pryde, congratulations!
The evening events attended by almost 300 people proceeded with a fabulous gourmet dinner catered by My Chef, Naperville. The 5 new 2013 scholarship recipients were introduced by our honorary chairman the legendary Ed Posh. Live and silent auctions followed by DJ entertainment. Our guests enjoyed a beautiful summer evening.
Our patrons, donors, sponsors and local business contributed so generously to raise the necessary funds to continue to give financial support to our 16 local scholars in the program. OUR THANKS goes to all who continue to contribute so much year after year and support our efforts.
The Ed Posh Scholarship Fund wishes to express our utmost gratitude to all, who helped to make this event another success including our wonderful scholars and committed volunteers.
See you again next year – mark your calendar Friday, July 20, 2014
– Hubert Buehler, Chairman of the Shootout event & President of the Ed Posh Scholarship Fund
August 30, 2013